The Pooh Page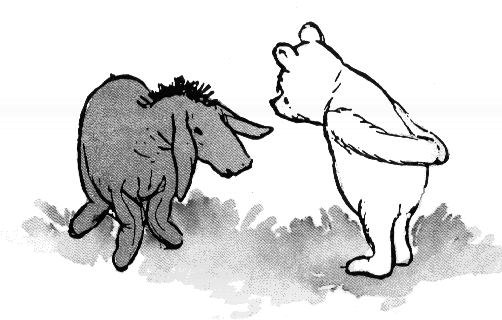 Here are just a few of the links I found on the net. Please let me know if you find any broken links, I try to keep up with them but I sometimes miss one. If you know of a site to add to the list, please drop me some e-mail and I'll add it to the list. Meanwhile, here's the list:
Stephanie's Thoughtful Spot
The Hundred Acre Wood
An Expotition Through the Hundred Acre Wood
Jennifer's Pooh Corner
Irene's Winnie the Pooh Page
Dom's Pooh Page
The Page at Pooh Corner
Karen's Pooh Paradise
Winnie-the-Pooh and Tigger Too!
Georgna's Winnie the Pooh Page
The Complete Work of Pooh Bear
Allison's House at Pooh Corner
Serena's Winnie the Pooh Page
Gump's Home Page
Dino's Pooh and the Gang Page
Virtual Pooh Sticks Server
Tracey's Homepage
Winnie-the-Pooh and Ashdown Forest
Winnie's Pooh Page
Winnie the Pooh and Friends Homepage
Character Guide and FAQ
Pooh's Yellow Pages
Buster's Webpage
FTP Pooh Pictures